Technology Coordinators
Survival Kit
Created by attendees of: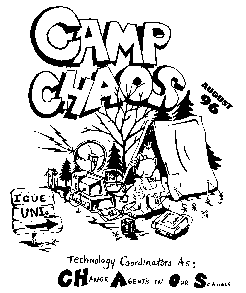 Been here before? Great. Don't forget to bookmark the Technology Coordinator's home page for future access. First time visitor? Here's how this technology coordinator's camp came about:
The Iowa Computer Using Educators Board of Directors saw the need for Iowa's technology coordinators to join together share and learn about common interests and emerging technologies.
In an effort to fulfill this need the first ever technology coordinators summer camp, Camp CHAOS (Technology Coordinators as CHange Agent in Our Schools), was held August 5-7, 1996, at the University of Northern Iowa, in Cedar Falls, Iowa.
This web site is the result of work by twenty camp attendees, all of which serve as technology leaders in their school districts. Our goal is to share what we've learned with others in similar situations.
To get where you want to go on-line, click on:
ICUE (Iowa Computer Using Educators) |
University of Northern Iowa | Price Laboratory School (K-12)
Designed for Netscape 2.0 or Internet Explorer 2.0 or newer.
Also supported by:
Dynacom
Entre' Information Systems
Peachpit Press