Last updated April 8, 2015
(assignments and textbook readings are set, but I am still working on examples of current controversies)
Instructor: Catherine H. Palczewski, Ph.D.

Office: Lang Hall 341

Office hours:

Tues: 3:00-4:30
Weds 1:30-3:00, 8:20-8:50pm
Thurs: 2:00-3:30

no office hours February 26; March 5; April 1, 2, 15, 16

If these times do not work, feel free to call or email to make an appointment.

Office Phone: 273-2714 Mailbox: Lang Hall 326 e-mail: palczewski@uni.edu

Acknowledgements: This syllabus would not be possible without the assistance of faculty at UNI and other universities who have shared their ideas, assignments and syllabi, and I thank them for their help, particularly: Richard Ice, Dale Herbeck, and Chuck Kauffman. This syllabus is better because of their help. I also owe much to the person who taught me about freedom of speech: Franklyn S. Haiman.
New information will appear in pink
assignment due dates are in red
links are in purple and blue
Description: This course explores the case law and theories surrounding freedom of speech within the United States. The course approaches the issue from a legal argument perspective, developing an understanding of how the judicial appellate system operates and how courts write decisions which are able to carry the power of persuasion within them. Ultimately, we will examine whether free speech law has kept up with developing communication theory and technology, and whether the present approach to free speech jurisprudence guarantees freedom of speech for all.
Objectives:
understand both the history of, and contemporary case law regarding, freedom of speech.
analyze one issue, freedom of expression and intellectual property, in detail to develop an understanding of the legal, communication, and critical theories that inform our ethics regarding and understanding of free expression in a digital age.
Readings:
Textbook: Tedford, Thomas L. and Dale Herbeck. Freedom of Speech in the United States, 6th ed. State College, PA: Strata, 2009. (FSUS)
McLeod. Kembrew. Freedom of Expression: Resistance and Repression in the Age of Intellectual Property. Minnespolis: U of Minnesota P, 2007. (FoE)
Popular press: readings about current events will be linked to the syllabus.
General Information: see my website, at www.uni.edu/palczews/general.htm. This site includes my late policy, the university accommodation policy, as well as paper format descriptions.
Assignments:
For graduate students. Graduate students develop their own assignment track, tailored to their graduate school objectives. By the end of the second week of class, graduate students should have turned in an assignment proposal that includes,
1) name of assignment,
2) description,
3) due date,
4) point worth (model it after the assignment descriptions in the syllabus)
5) criteria for grading
The assignment proposal should be as detailed as this syllabus.
Graduate students also will meet an additional hour each week for a graduate level seminar discussion, at a time to be determined by your schedules. Additional readings may be required for these meetings. As part of their assignment track, graduate students may choose to do some of the assignments in tracks 1 and 2. Additional readings will be listed in teal at the end of the week during which we meet.
For undergraduate students, see below:
| | | |
| --- | --- | --- |
| Assignment | Due Date | Point worth |
| 1. Discussion | every class period | 20 |
| 2. Discusssion docent | sign up | 15 |
| 3. Contract assignment | proposal due January 29 | 40 |
| (3). Peer editing | | 5 |
| 4. Midterm | March 5 | 20 |
| 5. Final | May 7 (Thursday) 10:00-11:50 | |
UNDERGRADUATE ASSIGNMENTS SHARED You are free to ask questions in class about the assignments, or contact me outside of class by email or phone. But, please be aware, I will NOT answer any questions about an assignment in the 48 hours before it is due. I recognize that students procrastinate, so, consider this an inducement to begin work early. This means if you have a question, you need to be prepared to ask it in the class session before your paper is due. I will not answer questions after that time. Assignments are due at the beginning of class on the date listed.
1. Discussion [20 points]. Discussion participation is an integral part of this course, and assumes that you will have completed the readings prior to class.
AnaLouise Keating (Teaching Transformation, 2007, p. 196) provides the following description of good academic practices in regards to reading for class:
(1) I expect you to complete all readings by the date listed on the syllabus;

(2) I expect you to read the material thoughtfully and in an engaged manner;

(3) I expect you to read all endnotes and footnotes;

(4) I expect you to read (not skim) all of the required readings--even those you find "boring" or difficult;

(5) I expect you to reread those texts that you have previously read;

(6) I expect you to seek out definitions for words and terminology you don't know . . . try the following websites:

http://plato.stanford.edu/contents.html

http:///www.theory.org.uk/

http://www.uoguelph.ca/culture/glossary.htm

...

http://www.popcultures.com/

http://www.cios.org/ [added by Cate]

James Jasinki, Sourcebook on Rhetoric (Thousand Oaks, CA: Sage, 2001).
For each week, class discussion generally will follow this template:
Tuesday: We will identify the legal questions that arise from the contemporary or historical examples described in the popular press readings linked to the syllabus. We will spend the class period asking what we need to know to be able to determine whether something counts as "speech" under the first amendment, what type of speech it is, whether a law is constitutional, etc. To be able to do this, you will need to have read the textbook chapter. You will not need to be able to identify cases by name, but you need to have a general idea of the various court precedents.
Thursday: We will answer the questions developed on Tuesday. So between the two classes, you are expected to review the textbook chapter and determine how the Supreme Court has answered the questions we posed. I expect you to come to class on Thursday with what you think are likely answers, including the name of the case, its main facts, the central ruling, and an explanatin of how it applied to the example. Note: there may not be a single right answer. Members of the Court disagree with each other all the time, and lower courts disagree with each other (which is why appeals to the Supreme Court happen).
In order to be a full participant in discussion, you MUST have completed all the assigned readings by class on Tuesday. You cannot identify the legal questions raised by an example unless unless you generally understand the legal answers available, and to know that, you need to have read the textbook chapter before Tuesday.
For those who are uncertain about their ability to participate consistently, I suggest you do the following. For each week, I would like you to prepare a discussion log, no more than 1 single space typed page for each half, due the next class period. The log should have 2 halves:
A. Pre-class: a description of how you prepared to contribute to discussion (key concepts outlined, examples developed, questions formulated.);

B. Post-class: A self-assessment of your contribution to class using the five elements outlined in the discussion link. You should attach a grade to your participation for the class period in question.
You should then set up regular meetings with me, during which we can discuss what you have discovered by logging your discussion. We may then develop ways to improve your discussion participation and adjust grading expectations accordingly.
For more details on discussion, as well as grading criteria, see this link.
2. Discussion docent: [15 points ] Starting week 3, each student will function as discussion docent once during the semester. Sign up will occur during the first week of class, and will be posted on the web syllabus. This assignment is composed of two parts:
A. Tuesday: Recording the questions. You are responsible for keeping track of, and organizing, all the legal questions an example raises. You also are responsible for posting the questions on the eLearning BLOG by 8pm on Tuesday evening. Please label your blog entry clearly.
B. Thursday: Beginning class discussion. You are responsible for answering one of the questions raised on Tuesday. Your answer should provide a clear summary of one of the key cases covered in that week's chapter (in other words, pick a question whose answer is in this week's chapter, not a previous week's).
Your summary should include:
a. Name of the case

b. Facts of the case

c. Findings of the court (include a description of the vote, the rationale for the decision, and a description of dissenting opinions). Provide key quotations.

d. Effect on case law (Does this decision overrule a precedent? Does this decision add to existing tests? Etc.)

e. Application to the example discussed on Tuesday
This presentation should last not more than 10 minutes. This time limit will be strictly enforced, just as time limits are enforced in appellate litigation. Students should turn in a typed outline of their presentations BEFORE they present (so that I can write detailed feedback). Grades will be assessed based on the following:
Word economy – how well you present complex ideas and facts in as concise a manner as possible
Accuracy – how accurately you present the issues discussed in the readings
Understandability – how easy you make it to take notes and recognize the keys points of the readings.
The goal of the presentation is not to spew out as many facts as possible, but to develop your ability to eloquently present difficult information to an audience. Notes are allowed, but remember that the goal of this assignment is to develop your oral presentation skills. Reading a manuscript does not tend to enhance comprehension or the audience's ability to digest information. Each presentation is also a mini-study session for the class tests.
To complete this assignment, you might need to conduct additional research (in particualr, you might want to look at the whole decision, rather than just the textbook's summary). I encourage you to familiarize yourself with Lexis/Nexis, particularly the law review library as well as the judicial decision library. Other helpful cites include:
oyez (contains audio of the oral arguments)

the textbook website
3. Contract assignment: [40 points]. Each student will develop a major assignment about Freedom of Speech unique to their interests and learning needs. Group projects are an option, but the work expectations will increase proportional to the number of people involved in the project. Contract proposals are due January 29. I have the right to accept, refuse, or ask for alterations of any contract. Regardless of the assignment, the following criteria/elements need to be included in the contract:
A. The assignment should be broken down into component parts to which points should be assigned. (The proposal can be worth up to 5 points; the proposal should include a bibliography). For example, if writing a paper, submit a rough draft; if doing a presentation/performance/creative project, submit an outline; if doing a debate, submit outlines and evidence. The first time I see your work should not be when you turn in the final project. In other words, you cannot propose to turn in a paper on the day of final exam for 40 points.

*Remember to assign points to each component part.

*Remember to provide a detailed description of each part, its function, and its form. In other words, provide guidance on how I should go about grading the assignment. Ask yourself: if this were an assignment given to me by a teacher, would I be happy with the amount of detail about length, format, citations, etc.

B. Feedback loop. Each contract should contain due dates for the component parts that allow for feedback. Always allow two weeks for grading/feedback. For example, if writing a paper, write it in three parts so you can receive feedback on each draft before you turn in the final part. If doing a debate or teaching unit, you can build in feedback on the outline. Remember to assign due dates to each component part.

C. Incorporate expert consultation. If you are doing a creative project (i.e., building a webpage, doing a documentary), build in consultation with another expert in the department to make sure you understand the tech.

D. Incorporate peer editing. Prior to turning in any final project, make sure you have a peer review it. If you are doing a group project, the peer editing is built in. Each person will receive 5 points for peer editing. It is your responsibility to make sure you are someone's peer editor and that you have a peer editor.

E. Incorporate research. All projects should involve the use of expert legal and scholarly sources. All projects must require you to read at least two complete Supreme Court decisions.

F. Include a written component (minimum of 5 points). All written work must be submitted through TurnItIn for originality checks. For example, if doing appellate advocacy, the lawyers submit briefs and the judge a decision; if doing a documentary, write a critical reflection paper justifying the choices regarding content, organization, law, etc.

G. Include a final presentation. During the final exam period, plan for some verbal form of presentation of your work.
Your contract assignment is up to you. But, remember, it needs to be worth 40% of your grade. Feel free to talk to me about ideas you have for the assignment prior to submitting the proposal.
Examples of possible assignments include: appellate advocacy debate (2 lawyers, 1-3 judges), research paper, guide to free speech for protestors manual, interactive website, documentary or video, performance, guest teaching a class unit, or anything else you can think of.
For examples of proposals for assignments, see these options.
4. Midterm: [20 points]. The midterm will follow the format of class discussion. You will be provided with the facts of some free speech case (real or hypothetical). You will be asked to identify the central legal questions, and then provide the answers given present case law. See green text for cases and concepts on which you should focus most of your attention (although it will still be worth your while to study all the terms and cases). Due March 5.
5. Final 10:00-11:50, May 7. We will meet as a class during the final exam period. During that time, each student must present some portion of their contract assignment for a grade.
Syllabus:
Week
readings
key concepts
key cases
discussion questions
assignments

Week 1: January 13, 15

Introduction to the course: Freedom of speech in a democratic system, general rules governing free speech law, understanding the judicial system, etc.

Jan 13: FSUS 1, appendix 1

Jan 15: FSUS 2

Abrams v. United States 250 US 616 (1919) "marketplace of ideas"

seditious libel, private libel, blasphemous libel, obscene libel, Blackstone's conception of freedom of speech, key moments of conflict over civil liberties,

bad tendency rule,

Alien and Sedition acts
Abrams v. United States

Week 2: January 20, 22

Political heresy

FSUS 3

Greenwald, Glenn. (2013, June 22). "On the Espionage Act Charges against Edward Snowden," The Guardian.

Cassidy, John. (2013, June 10). "Why Edward Snowden is a Hero," The New Yorker.

Toobin, Jeffrey. (2013, June 10). "Edward Snowden Is No Hero," The New Yorker.

Nielson, Erik, & Render, Michael. (2014, Decmber 1). "Rap's Poetic (In)justice: Column. USA Today. Be sure to follow the "true threat" hyperlink.

Salter, Jim. (2014, December 3). Louis Head, Michael Brown's Stepdad, Investigated for Angry Comments. HuffPost.

Espionage act, political heresy (which forms receive more or less protection), true threat

Schenck v. United States,

Gitlow v. New York, Whitney v. California, Fiske v. Kansas, DeJonge v. Oregon, Dennis v. United States, Yates v. United States,

Brandenburg v. Ohio

What is the present state of political speech? Is it protected?

Week 3: January 27, 29

Defamation

FSUS 4

Brinker, Luke. (2014, December 2). Judge allows libel lawsuit against Glenn Beck to proceed. Salon.

Knoll, Corina. (2014, January 24). Singer-actress Courtney Love wins landmark Twitter libel case. Los Angeles Times.

Davey, Monica. (2014, July 29). $1.8 million for Ventura in defamation case. New York Times.

Calamur, Krishnadev. (2015, January 6). Kirby Delauter, who didn't want his name in a news story, is now a story. NPR: The two-way.

Frederick News-Post Editorial Board. (2015, January 5). Kirby Delauter, Kirby Delauter, Kirby Delauter. The Frederick News-Post.

libel per se, libel per quod, civil v. criminal remedies, slander v. libel, basic conditions of a defamation case, defenses in defamation suits, damages, group libel, public v. private person, burden of proof, SLAPP and SLAPPbacks
Beauharnais v. Illinois (1952),

New York Times v. Sullivan

(1964), Curtis Publishing Co. v. Butts (1967), Rosenbloom v. Metromedia (1971), Gertz v. Welch (1974), Philadelphia Newspapers v. Hepps (1986), Milkovich v. Lorain Journal (1990), Masson v. New Yorker Magazine (1991)

Should you be able to publish private information about others in the process of telling your own story?

Discussion docent non-public figure: Ella Daft

January 29: contract proposals due

Week 4: February 3, 5

Privacy

FSUS 5

Hill, Kashmir. (2010, October 4). Will the Duke f**klist lead to lawsuits? Above the Law.

Ng, Christina. (2011, June 24). Judge orders abortion billboard removed, man refuses. ABCnews

CMLP staff. (2007, September 10). Steinbuch v. Cutler summary. Citizen Media Law Project.

Gregory, Sean. (2011, march 3). Why the Supreme Court ruled for Westboro. Time U.S.

Carlson, Cody. (2012, March 20). The Ag Gag Laws: Hiding Factory Farm Abuses from Public Scrutiny. The Atlantic.

types of invasion of privacy, defenses in privacy action

Time v. Hill (1967)

, Dietemann v. Time (9th Cir. 1971), Gallela v. Onassis (2nd Cir. 1973), Cox Broadcasting v. Cohn (1975), Zacchini v. Scripps-Howard Broadcasting (1977), Hustler v. Falwell (1988),

Florida Star v. B.J.F.

(1989)
Discussion docent: Chris Breja

Week 5: February 10, 12

Blasphemy and Obscenity

FSUS 6

Stone, Geoffrey R. (2012, September 14). Terry Jones and the first amendment. HuffingtonPost.

Georgia court dismisses unsolicted "sexting" case. (2014, February 24). BBCnews.

Lewin, Tamar. (2010, March 20). Rethinking sex offender laws for youth texting. New York Times.

Herman, Joshua D. (2010, April). Sexting: In's no joke, it's a crime. Illinois Bar Journal.

Iraq pictures spark a war over free speech. (2005, November 28). Theage.com.au

Zornick, George. (2005, October 10). The porn of war. TheNation.com

Goldhammer, Arthur. (2015, January 7). Let's not sacralize Charlie Hebdo. Aljazeera America.

Choudary, Anjem. (2015, January 8). People know the consequences. USA Today.

6 types of relgio-moral heresy, the outcome of the 1973 decisions/Miller/Miller progeny (what are the general standards applying to obscenity presently in operation), RICO
Burstyn v. Wilson, Epperson v. Arkansas, Kingsley International Pictures v. Regents, Roth v. United States (1957),

Ginzburg v. United States

(1966),

Stanley v. Georgia (1969), Miller v. California

(1973), Paris Adult Theatre I. v. Slaton (1973), New York v. Ferber (1982),

American Booksellers Association v. Hudnut

(1985), Alexander v. United States (1993), NEA v. Finley

Should the Innocence of Muslims have been banned?

Discussion docent blasphemy: Katie Evans

Discussion docent obscenity:

Week 6:

February 17, 19

Fighting words

FSUS 7

Solove, Daniel J. Off-campus cyberbullying and the First Amendment. (2011, July 28). HuffPost Education.

Hudson Jr., David L. (2013, January 4). 2nd Circuit reinstates lawsuit in middle-finger arrest. First Amendment Center.

Liptak, Adam. (2014, December 5). Supreme Court to Hear Cases on License Plates and Mentally Disabled Death Row Inmates. New York Times. Read only about the license plates.

Links to UNI policy

13.02 Discrimination, Harassment, and Sexual Misconduct Policy

fighting words, summary of Court's thinking on provocation to anger, Matsuda's narrow definition of words that wound, Chaplinsky v. New Hampshire, Cohen v. California, Gooding v. Wilson

Chaplinsky v. New Hampshire

(1942), Terminiello v. Chicago (1949), Feiner v. New York (1951),

Cohen v. California

(1971), Gooding v. Wilson (1971),

R.A.V. v. St. Paul

(1992), Wisconsin v. Mitchell (1993)

Are there any "words" so dangerous they deserve no first amendment protection?

Discussion docent cyber bully: Rachel Burns

Discussion docent license plates: Dalton Demos

Week 7: February 24, 26 (WDI)

Commercial speech

FSUS 8

Hilden, Julie. (2003). "When Nike speaks is it always 'commerical speech'?" Findlaw.com.

Anti-tax author banned from selling his advice. (2008, October 23). First Amendment Center.

role and rules of FTC, FDA, FCC; consumer interest and social interest,

current 4 part test

Valentine v. Chrestensen, Bigelow v. Virginia,

Virginia State Board of Pharmacy v. Virginia Citizens Consumer Council (1976), Bates v. State Bar of Arizona (1977),

Central Hudson Gas and Electric v. Public Service Commission (1980),

Posadas de Puerto Rico Associates v. Tourism Company of Puerto Rico (1986), Board of Trustees SUNY v. Foxx

Discussion docent:

Week 8:

March 3: Prior Restraint

March 5: midterm (Penn State)

FSUS 9

Kluwe, Chris. (2012, September 7). An open letter to Emmett Burns. HuffPost.

Bingham, Amy. (2012, September 10). lawmaker admits fumble, NFL players do have free speech. ABC News.

gatekeeping,

prior restraint,

Hughes on prior restraint, standards film permit systems must meet, new prior restraint tactics,

duty to obey

, Pentagon Papers
Near v. Minnesota, NYT v. US, US v. Progressive, Lovell v. Griffin, Freedman v. Maryland

March 5: midtem

Week 9: March 10, 12

Free Press

FSUS 10

O'Donnell, Noreen. (2012, December 29). Journal News to list more gun permit holders after uproar. HuffPost Media.

Goldstein, Tom. (2010, June 24). Today's decision in Doe v. Reed. SCOTUSblog.

Apuzzo, Matt. (2015, January 5). Defiant on witness stand, Times reporter says little. The New York Times.

free press v. fair trial balance/constrain media or constrain participants, three part test of press confidentiality privilege,

reporters privileges given legislation, FOIA, FOIA exemptions
Irvin v. Dowd (1961), Sheppard v. Maxwell (1966),

Gannett Company v. DePasquale (1979), Richmond Newspapers v. Virginia (1980)

, Chandler v. Florida (1981), Press-Enterprise Co. v. Superior Court (I) (1984), Press-Enterprise Co. v. Superior Court (II) (1986),

Nebraska Press Association v. Stuart, Branzburg v. Hayes, Zurcher v. Stanford Daily

Discussion docent gun list: Lindsey Joens

Discussion docent reporters' sources: Scott Schulz

Week 10: March 17, 19 Spring Break

Week 11: March 24, 26

Time, place and manner

FSUS 11

FoE 5

McCullen v. Coakley. (2103).Oyez.com. Read facts of case only.

Bassell, Laura. (2014, June 27). Supreme Court Strikes Down Buffer Zones for Abortion Clinic Protests. HufPost Politics.

Rowland, Lee. (2014, August 20). There Is No 5-Second Rule for the First Amendment." Politico Magazine.

Ackerman, Bruce, & Benkler, Yochai. (2011, October 21). Occupying the first amendment. HuffPost.

basic philosophy of time/place/manner restrictions,

open forum on public property,

compatible use rule, three part forum rule,

open forum on private property (esp. shopping centers),

speech plus

Jamison v. Texas,

Shenck v. Pro-Choice Network of Western New York, Pruneyard Shopping Center v. Robins, Texas v. Johnson, US v. Eichman et al.,

McIntyre v. Ohio Elections Commission, Grayned v. Rockford (1972), Perry Education Association v. Perry Local Educators' Association,

United States v. O'Brien

Is UNI's Maucker Union policy an example of legitimate T/P/M restrictions?

Discussion docent: Justin Anderson

Discussion docent: Joshua Panhoff

Week 12: March 31, April 2 (NDT)

Institutional constraints

FSUS 12

FoE 4

April 4: Lukianoff, Greg. (2012, October 24). Feigning free speech on campus [Opinion]. The New York Times

Solove, Daniel J. (2011, June 20). School discipline fot off-campus speech and the first amendment. HuffPost Education.

Freedom to Marry, Freedom to Dissent: WHy We Must Have Both. (2014, April 22). RealClearPolitics.

Black, William K. (2013, December 19). The Kansas regents (casually) end academic freedom. New Economic Perspectives.

Jaschik, Scott. (2013, December 19). Fireable tweets. Inside Higher Education.

Supplemental:

Silvergate, Harvey A., French, David, & Lukianoff, Greg.. (2012). FIRE's Guide to free speech on campus (2nd ed.). Philadelphia, PA: FIRE.

FIRE's assessment of UNI.

limits to government speech

the present status of high school student rights, academic freedom, rights of the military, rights of criminals

Keyishian v. Board of Regents (1967), Pickering v. Board of Education (1968),

Tinker v. Des Moines Independent Community School District (1969), Island Trees Union Free School District v. Pico (1982), Hazelwood School District v. Kuhlmeier (1988), Doe v. Michigan (1989),

Rosenberger v. Rector and Visitors of the University of Virginia (1995),

Parker v. Levy (1974),

Goldman v. DOD,

Procunier v. Martinez (1974), Pell v. Procunier (1974)

Discussion docent: Larin Gordon

Discussion docent: Molly Norman

Week 13: April 7 (NDT), 9

Copyright

FSUS 13

FoE 1-3

Hall, Ellie. (2013, April 9). "Firefly" hat triggers corporate crackdown. BuzzFeed

Hermann, Andy. (2015, March 11). Great, now "Blurred Lines" has ruined the entire music industry. LA Weekly.

Charlton, Lauretta. (2015, March 11). A copyright expert explains the "Blurred Lines" ruling. Vulture.com

what cannot be copyrighted, 4 principles of fair use

, works for hire, the constitutional paradox, how copyright accomodates free expression rights,

areas of tension between copyright and free expression

Sony Corporation v. Universal City Studios, Harper & Row Publishers, Inc. v. Nation Enterprises, Salinger v. Random House, Basic Books, Inc., v. Kinko's Graphic Corp.,

Campbell v. Acuff-Rose Music

,

Discussion docent: David Fuller

Week 14: April 14, 16 (DePauw)

Access

FSUS 14

FoE 6

Karr, Timothy. (2012, July 16). Freedom = censorship. HuffPost Tech.

how Internet differs from print and broadcasting, vagueness, overbreadth, which parts of the CDA are still in effect and which are unconstitutional, state of Supreme Court jurisprudence on the Internet, who is responsible for Internet defamation, publisher v. distributor, anonymous communication, ECPA protections, contributory and vicarious copyright infringement
Reno v. ACLU, Ashcroft v. ACLU, US v. American Library Association, UMG Recordings v. MPS.com, A&M Records, Inc. v. Napster, Inc., MGM Studios, Inc., v. Grokster, Inc., CBS v. FCC, Wilkinson v. Jones, Denver Area Telecommunications Consortium v. FCC, National Broadcasting v. United States (1943),

Red Lion Broadcasting Co. v. FCC (1969),

Miami Herald Publishing Co. v. Tornillo (1974), FCC v. Pacifica Foundation (1978),

CBS v. FCC (1981), Turner Broadcasting v. FCC

Discussion docent: Abbie Shew

Week 15: April 21, 23

Citizens United

Discussion docent: Hunter Thompson

Week 16: April 28, 30

Conclusion

FSUS 15

FoE Afterward

Shevchenko, Inna. (2015, February 20). Not defending our ideals of freedom today would be a crime. Huffpost.com.

Ammori, Marvin. (2011, March 28). Digital spaces and the future of free speech. HuffPost Tech.

Hinkle, A. Barton. (2014, April 14). Bipartisan Hypocricy on Free Speech. Reason.com.

Week 17: May 7 (Thursday) 10:00-11:50 Final exam

Final exam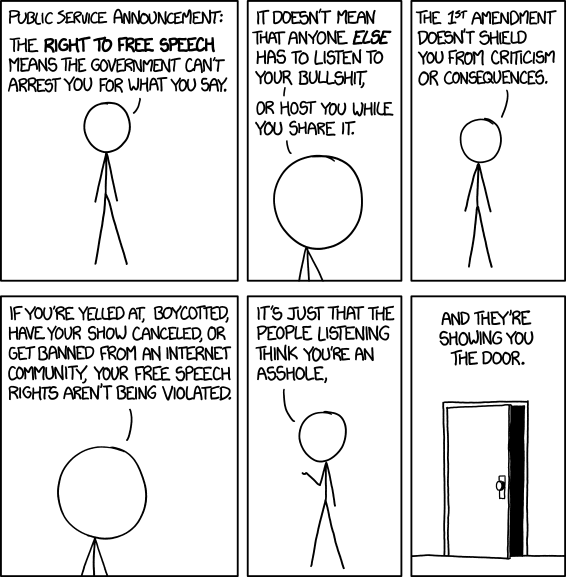 http://xkcd.com/1357/