Program in Research and Outreach in Geography
between Russia and the United States

PROGRUS
Schuerman Family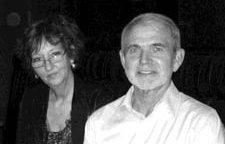 Jim and Connie Schuerman have been supporting UNI students from Russia and other Eastern European countries since 1999. They also have been long-time supporters of UNI International Programs. Jim and Connie have provided life changing experience for dozens of students and have become lifelong friends with many of them. In 2009 the Schuermans and UNI Geography Department establised PROGRUS to stimulate connections with Russia and assist in attracting Russian students to UNI.
Department of Geography,
University of Northern Iowa
In 2007
Moskovskiy Komsomolets
named UNI among 10 top US universities for Russians as ranked by Russian students (alongside with Columbia, Harvard and other nation's prime schools). UNI is a premier Midwestern university with strong connections with Russia. Department of Geography has had Russian graduate students continuously since 2001, most of them from St. Petersburg State University. Russian graduate students come to work in research-intensive environemnt on NASA, NSF, USGS, DOT and other major research projects run by UNI faculty.
Where are they now?
Selected highlights from UNI Russian students:
Andrey Petrov (2001-2003) - PhD (Toronto, 08), Professor @ UNI
Alexandra Bozheva (2003-2005) - PhD (Western Ontario)
Alexander Savelyev (2007-2009) - PhD (Penn State)
Anna Pestereva (2008-2010) - Aerial Services, Inc.
PROGRUS aims and scope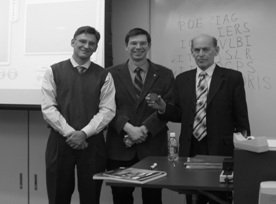 PROGRUS is a privately funded program at the University of Northern Iowa designed to foster collaboration in geographic research and education between Russia and the USA.
PROGRUS pursues the following objectives:
Foster research, intellectual and educational collaboration between geographers in Russia and the USA.

Facilitate an exchange of ideas and scholarly activities in geography and geospatial information science between Russian and American academics and students.

Assist UNI Geography Department in establishing and maintaining long-term connections with Russian geography schools,

students and faculty.

Fund speaker and scholarship collaboration series that bring Russian Geographers to the United States (UNI) to exchange ideas and scholarly activities in geography.
************************************************************************************
PROGRUS Headquarters
PROGRUS is housed at the Department of Geography, University of Northern Iowa
Director: Dr. Andrey N. Petrov
email: andrey.petrov (at) uni.edu
205 ITTC UNI Cedar Falls, IA 50614-0406
*************************************************************************************
PROGRUS News
Funding Opportunities
04-01-2011
This year UNI Geography hosted another international visit. Dr. German D. Kuroshev is the Chair of the Cartography and Geoinformatics Department at the St. Petersburg State University in Russia. Dr. Kuroshev is a renowned engineering geodesist and cartographer. He authored several books on geodesy and cartography, directed geo-engineering surveys for construction of major hydroelectric power plants in the USSR and assisted in fundamental geodetic surveys in Peru and Indonesia. Dr. Kuroshev visited UNI on April 1, 2011 to talk to students and faculty about his research.
Students
Jim and Connie Schuerman Scholarship
Annual scholarship at the level of $1,000 or above for masters level graduate and/or undergraduate students from Russia and former Soviet Union studying Geography at UNI.
Scholarship Recipients (2010-2011)
Irina Childinova
Scholarship application:
Please, contact priogram Director Dr. Andrey Petrov
andrey.petrov (at) uni.edu
UNI Geography Graduate Program
Faculty
PROGRUS Visiting Scholars
PROGRUS program supports short-term scholars abnd speakers - faculty from Russian universities - to work and lecture on UNI campus.
PROGRUS Speakers
Dr. Yurii Gladky (2010), VP Russian Geographic Society, Chair of Economic Geography, Herzen University
Dr. German Kuroshev (2011), Chair of Cartography & GIS, St.Petersburg State University
Events and projects (co)-sponsored by PROGRUS
AAG 2010 Panel on Collaboration between Russian and US geographers
Taimyr Reindeer and Environmental Change Project (UNI)